Jungheinrich's New EFG 2 AND 3 Series Trucks Offer Industry-Leading Performance and Increased Energy Efficiency with Their 4th Generation AC Technology
Press Release – October 2, 2008, Jungheinrich Lift Truck Corp.
RICHMOND, VA – Jungheinrich Lift Truck Corp., a green manufacturer and supplier of eco-friendly AC-controlled electric lift trucks, has announced two new series of high performance counterbalanced trucks with capacities ranging from 2,500 to 4,000 lbs. The EFG 213-220 and EFG 316-320 both provide state-of-the-art, 4th generation, 3-phase AC technology in their drive, hydraulic and steering systems.
The presence of this advanced technology is significant because it leads directly to higher levels of energy efficiency, as well as superior truck performance in terms of travel speeds, lift/lower speeds, acceleration and ramp handling ability. It also means longer run times on a single battery charge. The motors, controllers and software in the new vehicles were designed by Jungheinrich to work together smoothly and efficiently. Under separate test conditions to measure efficiency and performance, they provide a 10% and 5% improvement, respectively, over previous EFG truck models. No other company serving the U.S. market offers electric counterbalanced trucks with such a high level of AC technology.
Both series allow the operator to charge and change the battery via simple access from the side of the truck, and provide the convenience of several battery extraction methods, including the use of a hand pallet truck, forklift or crane.
The 2 Series offers six 3-wheel chassis variations, including two compact versions, providing more overall chassis variations than its top five competitors. This series is extremely maneuverable in restricted spaces and works well in outdoor applications. Its AC electric power steering not only leads to greater energy savings, but also renders load handling easier and more precise. The 3 Series offers five 4-wheel chassis variations and is well suited to applications involving longer runs.
Both EFG series offer advanced ergonomics and a high operator comfort level via AC electric power steering. An innovative fingertip hydraulic control design also eliminates cumbersome hydraulic levers and offers advantages similar to the electric power steering in terms of low effort, high precision, low noise and low fatigue. The operator sits in a "floating cab" with a comfortable, fully adjustable armrest and handrest that incorporate Jungheinrich's standard SOLO-PILOT control (or optional MULTI-PILOT control). By having all controls within reach, including the hydraulic controls, directional switch and horn, the operator's hands are always on the controls.
All critical electrical components, including connectors, are protected to IP54 or greater, ensuring superior protection against ambient dust and water ingress. The new vehicles also feature up to 1000-hour service intervals, 2 to 4 times longer than those offered by other manufacturers. The 2 Series, in particular, has eliminated the steering pump and hoses, reducing the need for maintenance. The fully enclosed electric disc brakes are wear-resistant and protected against the elements, assuring long brake life and limited maintenance.
Standard safety features include Curve Control for speed reduction when cornering, anti-rollback on ramps, and automatic parking brake application. Optional load and truck control features include Access Control (preventing truck from moving until the operator is in the seat and the seatbelt is fastened), Drive Control (reducing travel speed based on lift height), and Lift Control (reducing tilt speed based on lift height).
For more information on the new EFG 2 and 3 Series trucks, contact Jungheinrich Lift Truck Corp., 5601 Eastport Boulevard, Richmond, VA 23231. Call 804-737-7400, fax: 804-737-7467, or visit the website at http://www.jungheinrich-us.com.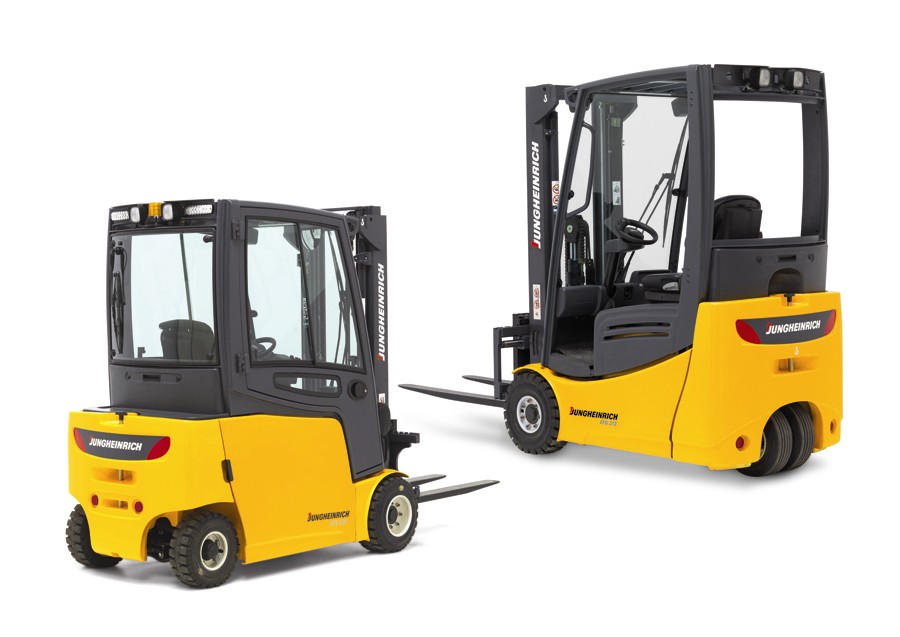 About Jungheinrich
Jungheinrich is the world leader in warehouse logistics technology. Founded over fifty years ago, the company has grown from its beginnings as a European manufacturer of materials handling equipment to an international supplier of industrial trucks, warehousing technology and materials-flow products. Today, it is a major supplier of forklift trucks around the globe, and offers a complete range of materials handling equipment, rack systems and services related to manufacturing logistics.
Jungheinrich's growth has been due in large part to the high value it has always placed on leading-edge design and technological innovation. This is seen, for example, in the company's proprietary 3-phase AC motor and controller technology, and in a host of productivity and ergonomic enhancements. Jungheinrich has more than 120 strategically-located service support centers and store operations in the U.S., and sales and service companies in countries around the industrialized world.