The team here at Precision Filtration Products is on a mission to be the best full-service industrial filtration company, in both the distribution and manufacturing sectors. This means that we offer the highest quality products, a superior level of knowledge and creativity, as well as a quick turn-around time. We continuously strive to provide you with excellent service by helping you to find and/or design the exact product that YOU desire. Our company was born in 1994 out of very humble beginnings, working out of a small house and unloading tractor-trailers by hand with no forklifts. At that time, each member of our small team "wore many hats", and we worked during all hours of the day and night to fulfill our customers' requests. Gradually, we started offering more products, we found more help, and we started expanding at a rapid rate. Today, we are a full team of professionals with 50+ years of experience in the filtration and manufacturing industry.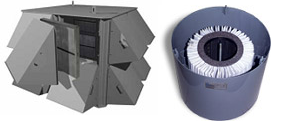 Product Photos Courtesy of water filtration. More and more industrial companies are realizing that, by properly taking care of their equipment's lube oil, they can significantly increase the lifetime of their machinery (especially in power plants, refineries, and manufacturing facilities). We provide you with the exact solutions that YOU need to purify your lubricating oil, which will minimize your downtime and decrease your need to purchase oil at high prices. In addition, over the next few years, we also expect to see more incoming requests for home water purification solutions. People are becoming more aware of the residual chemicals and contaminants that exist in their municipal water supply. It is becoming important to people to purify their household water as best as possible.

Photos Courtesy of contact us any time during our business hours and a friendly member of our team will be glad to speak with you.
IQS Newsroom Featured Profile: Precision Filtration Products

,