IQS Newsroom Featured Profile: RMI Laser, LLC
by Amy Harris, IQS Editor

RMI Laser was first established in 1998 as the laser division of Rocky Mountain Instrument Company. Since then, RMI has expanded into a separate entity specializing in the design and manufacture of DPSS laser systems and complete laser marking solutions. RMI Laser has produced five individual laser marking series: the LE-Series, the Archer-Series, the U-Series, the UG-Series 532nm and the most cost-effective part marking laser currently in use, the UM-1. Targeting influential industries such as the Armed Forces, Medical Device Manufacturers and general manufacturers, RMI strives to stay on the top of its field by taking a proactive approach to the ever changing market conditions. The company remains focused on producing the highest quality laser marking systems on the market.
Approximately 90,000 square feet of prime manufacturing space make up the RMI Laser headquarters in Lafayette, Colorado, allowing RMI to offer full manufacturing, quality control and testing services. The skilled in-house team of engineers and scientists focuses on providing total customer support at each stage of production, ensuring a satisfactory design and manufacturing process for all involved. RMI also offers OEM solutions, laser marking engines and the capacity to handle part-marking processes requiring motion control devices.
As the importance and usefulness of laser marking continues to grow – especially in the fields of security and authenticity verification – RMI is at the forefront of implementing measures to meet the complete laser marking needs of its valued customers. Core qualities of this reputable company include: reliability, high performance and cost-effective solutions; as well as a forward thinking manufacturing plan. Exciting future developments include the release of a new and improved laser marking system, the X-Series, in 2011, providing customers with yet another state-of-the art piece of equipment to use. Working with an innovative company such as RMI for your laser marking needs is clearly a wise manufacturing choice.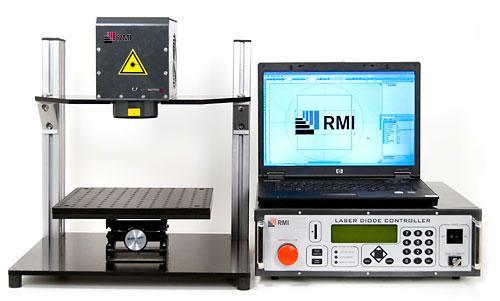 Photo courtesy of RMI Lasers, LLC.