IQS Newsroom Featured Profile: Micro Forms, Inc.
When Lee Curry founded the machine job shop Micro Forms, Inc. back in 1967, he had just one customer and a lot of ambition. Decades later the tool and die stamping job shop, now owned by sons David and Dan, serves countless industries with small precision metal stampings. Ever diverse, Micro Forms has a valued history of meeting the most challenging needs of every customer. As infallible as their products, this reputation radiates from Curry's emphasis on accountability and quality that brought great expansion to the company. Such focus on service has carried on to the next generation who continue to maintain a strong customer base by not only working for their clients, but with them.
Friendly, efficient and insightful, the skilled staff at Micro Forms has the knowledge, experience and equipment needed to craft the best parts and components available, rivaling not only other metal stamping manufacturers, but custom fabrication as well. While the average machine job shop may find itself limited by market boundaries, Micro Forms sees no boundaries in the metal stamping industry. Instead, they see limitless potential for their company to provide quality metal stamping to any industry or individual. Challenging convention in this way, the Micro Forms team continues to broaden the horizons of both their company and the industry at large.
As competition in the manufacturing industry grows, Micro Forms emphasis on quality as the basis of value in both products and services continues to sustain the business even as many firms move overseas. Family owned and operated, Micro Forms understands that as economic and environmental challenges mount the clear solution is to return manufacturing to the United States of America. Continually striving to reduce waste, remove inefficiencies and ensure total quality, the performance record of Micro Forms speaks for itself while serving as a reminder that domestic manufacturing companies are primed and ready for a renewed commitment from consumers in search of quality.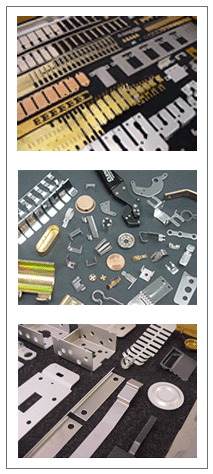 Photos courtesy of Micro Forms, Inc.