IQS Newsroom Featured Profile: Atlantis Rail Systems
by Breana Cronk-Moore, IQS Editor

Stainless steel has long been recognized for its utility and strength, but the alloy offers much more than this. Though often overlooked in favor of its industrial grade integrity, Atlantis Rail Systems also recognizes the aesthetic qualities of the material. The company takes a unique approach creating inspired stainless steel railing systems that incorporate both aesthetic design and purposeful functionality. From standard frame and baluster railings to the inimitable look of carefully crafted cable railing to completely customized railing configurations, Atlantis Rail Systems is committed to supplying quality stainless steel products and services that meet or exceed the expectations of every singly customer.
Like stainless steel, there is more to Atlantis Rail Systems than meets the eye. Underneath the polished finish, each baluster and wire rope rail is produced by a team of experts who monitor and continue to improve upon product efficiency. Investments in research and development ensure that Atlantis Rail products are not only of the highest quality possible, but are easy to use and install. New RailEasy™ components may be mixed and matched to meet the needs of any design situation. In addition to an ever expanding array of possibilities in rail assembly, Atlantis now offers rail lighting. The patented Micro Star™ LED Track Light and LED Post Cap Lighting options provide customers with added visual appeal and increased safety.
Be they design or function oriented, Atlantis Rail Systems listens to the challenges faced by its growing customer base and goes to extremes to find the best solution. In recent years the company has improved efforts to bring those solutions to customers around the world. While previously only accessible through the company directly, Atlantis Rail cable and post railings can now be found at stocking dealers around the United States allowing customers to see and touch products at their local lumber yard or hardware store. Increasing product lines, improving product integrity and expanding accessibility are just a few of the ways that Atlantis Rail Systems support the aesthetic and operational endeavors of every customer.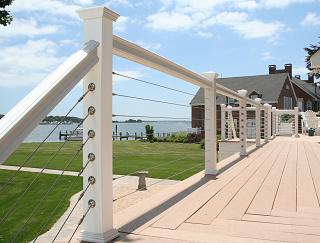 Image courtesy of Atlantis Rail Systems.