IQS Newsroom Featured Profile: All Metric Small Parts
by Breana Cronk, IQS Editor

Link to aMsp Product Video
For over 50 years Designatronics, Inc. has been a trusted manufacturer and distributor of small mechanical parts for the design and construction of enclosures and other structures. In 2007 a new division, All Metric Small Parts, was established to bring a half century of experience into the modern era of environmental concern, instant access and rapid response time. With over 5,400 metric components available online and over the phone, aMsp provides a one source solution for virtually every industrial hardware requirement meeting both international standards and RoHS regulations. In this way All Metric Small Parts brings engineering expertise to a new level demonstrating the company's firm grasp on standardized metric parts and a solid handle on an evolving global market.
A company of the 21st Century, aMsp caters to the increasing need for speed in the ordering and delivery of standardized components. While traditional avenues such as order by phone, e-mail or facsimile are always available, an online e-store provides instant access to diligent descriptions and detailed product specifications for twenty-four hour a day, seven day a week ordering of the right product for any application. 100% RoHS compliant and savvy to international regulations, aMsp products are more than easily accessible, they are readily shipped around the world without the need for extensive product research or certification requests. All Metric Small Parts offers nothing but the best in metric parts to eliminate wait time, improving production and the bottom line.
To maintain a selection of the highest quality components, aMsp continually searches worldwide for skilled suppliers. In this way the company continues a 50 year tradition of finding the best and most innovative part for every industrial application, be it cabinet hinges or medical storage locks. Each part is available in universal metric dimensions and is accompanied by a highly qualified technical and support staff to best serve every customer. Complete RoHS compliance combined with technological expertise and an enormous inventory ranging from cam locks to strap hinges, slam latches, handles and more ensure All Metric Small Parts will have a big impact in any application.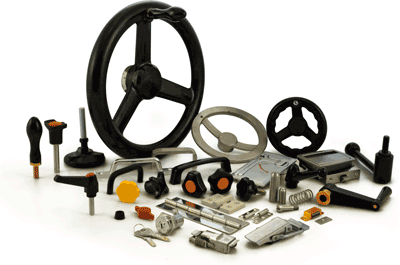 Photo courtesy of All Metric Small Parts.