Industrial Sewing for the Military
Look at what you are wearing, then at your cubical, after that look at the carpet. See any similarities? In fact, where ever you may be today look in 360 degrees and I can almost guarantee you see a product of industrial sewing. Industrial sewing can be as simple as a needle, thread and scissors, but more than likely a computerized sewing machine will be taking care of the job. However, if multiple stitches are required a series of machines may be in place with their own task to expedite the process, such as a seaming machine or hemming machine and so on. From start to finish the process is sometimes similar to an assembly line. One industry that requires industrial sewing of multiple materials and products is the military.
To start the military requires tents, clothing, armor, straps, gear bags, boots, blankets and various items in order to be comfortable and to help successfully complete their missions. Supplying the military is not a small task: there are hundreds of thousands and service men and women that require all of these items. In turn, many industrial sewing companies have a mixture of computerized sewing machines, manual sewing machines, cutting machines and final inspection processes in place to ensure top quality is being produced at every step and the final product is up to the military's standards.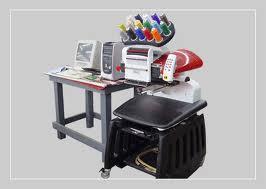 Photo Courtesy of Jonco Industries, Inc.
With the military there are constant changes in fabrics, style and products due to research and technology or place of deployment. Some potential fabrics are Kevlar, canvas, cotton and nylon to name a few. Therefore, industrial sewing companies must be ready for all large-scale projects. Having an assembly line style workspace or specialty machines that are able to multi task can be helpful when it comes to large scale runs or new custom projects. The sewing machines must be easily adaptable to job changeovers and durable enough for the long haul production. Sewing manufacturers must meet many quality standards for each business or industry they supply. For the military ISO 13485 and FDA regulations must be met along with a third party audit. Those are only a few examples of many other potential standards.
Each piece of equipment is equally important. Industrial sewing companies bring all of the pieces together making our military prepared and comfortable for their training and missions abroad. This is only one example of a long list of different industries that require industrial sewing to function properly in their day to day. Many sewing contractors service multiple industries instead of being overly specialized on one specific trade. Some other industries that benefit form this specialty are the medical, clothing, furniture and hand bag industries. Does your industry utilize industrial sewing companies? If so, what do you order? Clothing, bags, name stitching, furniture padding?