by Breana Cronk, IQS Editor
Began as a part-time venture in 1985, continual years of growth find Suncor Stainless, Inc. not in its original location, the residence and garage of founder Roman Striebel, nor in the 3,000 square foot warehouse it moved to in 1992. Not even the 20,000 square foot space it acquired in 1994 was adequate for Suncor. No, just over 20 years after the company was begun by Roman and son Patrick, it has become one of the world's most complete sources for stainless steel hardware of myriad kinds demanding a 70,000 square foot state-of-the-art building with an additional 14acres for future growth to accommodate an ever expanding product line. Such expansion can be attributed of course to the superior parts and components available at Suncor, but also to the dedicated and knowledgeable team that develop those very products and bring them to the customer.
With the goal of becoming the largest most diversified supplier of stainless fittings, wire rope and stainless steel chain, Suncor has expanded more than its square footage. The initial product line of just 35 items has quickly grown to encompass over 3,000 different products to choose from including hinges, bolts, swage fittings, cable, turnbuckles, sheaves, tie-downs and so much more. The new facility offers a machine shop, manufacturing department, finishing, assembly and even packaging under one roof. This efficiency not only improves cost and quality control, but allows for the production of customized hardware made to customers' exact specifications. A new website further assists in ensuring every client receives the best stainless steel or other component for their application. A full-featured database, the site offers a complete catalog with detailed product information as well as a glossary and host of informational charts to outline what that information means.
The success and persistent growth of Suncor make clear that it is more than just an impressive product line and comprehensive website that earn the trust of repeat customers and consistently impress first time buyers. More than this, it is the quality management system that earned an ISO 9001 certification. It is the constant aspiration to improve access with a growing number of dealerships throughout the country, while decreasing reliance on importation through investments in new machinery for domestic operations. In short, Suncor earns their reputation and the respect of its customers through proving time and time again their desire and ability to do the best, build the best and to be the best source for stainless steel hardware for each and every customer.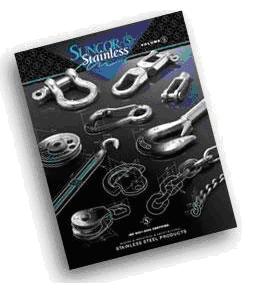 IQS Newsroom Featured Profile: Suncor Stainless, Inc.

,