IQS Newsroom Featured Profile: Broadway Gear, Inc.
by Breana Cronk, IQS Editor

The US distributor and wholesaler of Changkong Gears, Broadway Gear, Inc. proudly continues the tradition of high quality products and services built on the company's more than forty year history as a top gear manufacturer in China and around the world. Drawing on a skilled staff of engineers, the company focuses on the design and manufacture of fine module gears, gearboxes, gear decelerators and pumps to serve a broad array of industry. Broadway Gear was founded to meet the growing demand for quality industrial gears in North America as the company's customer base rapidly expanded to include China, South Asia, North and South America. Consistent yearly increases in sales over the past ten years highlight the growing prosperity of Broadway Gear and its proven propensity for quality products and competitive pricing.
At Broadway Gear competitive prices do not mean sacrificing quality. Certified by the International Organization for Standardization, the Texas based company strives to produce the finest component possible. A full line of precision gears including bevel, worm, helical, spur gears and more combined with the in-line and right angle gear boxes ensure clients' needs are met no matter the application. If a standard component simply will not do, a collection of the best production equipment allows the skilled Broadway staff to create custom pieces to exact specifications. Though Broadway Gear specializes in gears and planetary gearboxes, their customization capabilities expand beyond this in recognition that custom gears often require custom accessory components and assemblies.
Standard or custom ordered the continually growing sales at Broadway Gear are a testament to the credibility and reliability of the quality gear products they design and manufacture. The company sustains a near perpetual effort to improve product performance in order to maintain this steady reputation and expand the possibilities of low cost, better functioning gears. In addition to the expansive production equipment at the disposal of employees, Broadway Gear products are subject to increasingly grueling inspection policies to ensure every piece and part meets the highest of standards. The production of incomparable fine pitch gears illustrates the company spirit of precision and harmony. Harmony is further underscored in the continual pursuit of product and process development and improvement emphasized at Broadway Gear, Inc.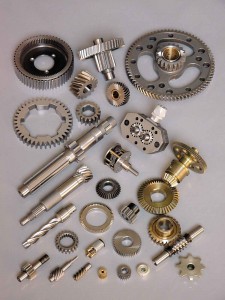 Photo courtesy of Broadway Gear, Inc.
IQS Newsroom Featured Profile: Broadway Gear, Inc.

,