Plastic Extruder Hall Manufacturing Sticks to Its New Jersey Roots
Plastic Extrusions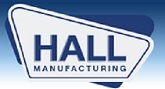 William W. Hall founded Hall Manufacturing Corporation in 1946. Mr. Hall was a grandnephew of the inventor and patent holder of the original extruder, John Royle. Both had roots in New Jersey; likewise, Hall Manufacturing began in Bergen County, New Jersey. Now, our company is located in Ringwood, NJ and we are one of the leading plastic extrusion companies in the world. Since its start, Hall has been a mainstay in the industries we serve, with a continuing reputation for innovation and quality which gives our customers a competitive edge.
As a custom plastic profile extruder we are capable of manufacturing simple and complex shapes. We manufacture with a variety of materials such as High Impact Styrene, Rigid and Flex Vinyl, ABS, Impact Acrylic, Polypropylene, High and Low Density Polyethylene, Polycarbonate, and more. We provide custom tubing for water filtration systems and pumps. We also serve the marine and sporting goods industries, produce covers for electrical tools, and fixtures for interior design. Finally, we extrude a multitude of rails, tracks and sliders for refrigeration equipment, storage shelves and conveyors. Additionally, we feature many secondary tasks to meet all your production needs including mitering, notching, hole punching, and chamfering.
Hall knows our customers rely on us for providing quality products. We focus on each customer's unique needs and only use the best materials for our extrusions. Furthermore, we can handle short and long production runs. We tackle new projects with enthusiasm and ingenuity; innovative profiles and exacting quality control are part of our everyday work. Hall Manufacturing is proud to provide plastic components that people enjoy every day. Contact us today for more information!