Get Free Help from Full Service Manufacturers
As budgets get tighter and you take on more responsibilities, Full Service Manufacturers are available to give you the help you need. A Full Service Manufacturer (FSM) has the personnel and expertise to help you control costs. An FSM can partner with your company for the engineering of new parts and products, economical purchasing, and can stock product for immediate delivery.
Working with an FSM during the design process of a new product can save time and money. Most of these manufacturers have multiple methods of manufacturing (Stamping, CNC, Screw Machine, etc.) which translates into a vast amount of knowledge you can draw upon. Their in-house engineering departments can work with your engineers to recommend manufacturing methods, materials, tolerances, and configurations that are possible in each method of manufacturing. All an FSM engineering department requires are part quantities, target pricing and the ability to view the whole assembly. If you don't have the capability to make a schematic, they can do that for you, as well as reverse-engineer an existing part that you don't have dimensions for. As the project develops, quotes can be given on the parts to make sure you stay within your price point. Projects can consist of only one part, or as many as you require.
Each FSM knows how to give you the best unit price, along with quantity price breaks. The higher the quantity ordered the lower the price. Blanket orders can also be an option when working with an FSM. Doing a blanket order can give you a higher quantity price, but is delivered over a period of time. Typically, a blanket order will be for a 3 month quantity price, and will be delivered once a month for those 3 months.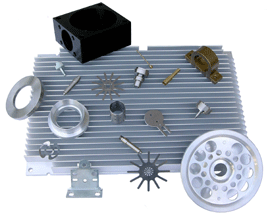 Some FSMs stock product for a wide variety of hardware needs, which can benefit you in a variety of ways. The optimum is an FSM which carries a large inventory of standard product that you can pick at any time. This inventory gives you options when buying standard and specialty hardware. If an FSM doesn't have exactly what you need, they may have an equivalent part close enough in size, thickness, material or plating to meet your needs. If you can forecast your needs and place your orders in a timely manner, the FSM may have more flexibility in their manufacturing schedule to produce your product prior to the due date and have it ready for immediate delivery to you. This works especially well when the economy is starting to grow.
Take advantage of the benefits offered by Full Service Manufacturers, and enjoy the help and savings.
Seastrom Manufacturing Co., Inc. offers full service manufacturing of standard and custom electronic and assembly hardware, including o-rings, metal stampings and screw machine products. For more information regarding Seastrom's product line or manufacturing capabilities, visit www.seastrom-mfg.com, email info@seastrom-mfg.com or call 1-800-634-2356.