by Jenny Knodell, IQS Editor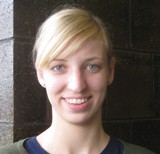 I think we can all agree that the last year hasn't exactly been a walk in the park for any business. Unemployment hit double digits, the GDP shrank, and manufacturing revenues decreased by almost 11%. But that was 2009. After ringing in the new year, the big question on everyone's mind, especially in manufacturing is this: will 2010 get any better? A small turnaround started late last summer with GDP expansion pace of more than 5% in the 4th quarter of '09, and economic activity expanded every month since August in the U.S. manufacturing sector. Tiny numbers, but still, we're seeing growth for the first time since 2007. Now, the glass may not be half full quite yet, but the water is starting to flow. Most forecasts are leaning on the optimistic side for this next year—90% of predictions state that 2010 will be the same or better than 2009.
After a disheartening 10.7% decrease in manufacturing revenue last year, the forecast you're about to read should put a jump in your step. In 2010 it's expected to rise 5.7%, according to the Institute for Supply Management's December 2009 Semiannual Economic Forecast. Since October, the numbers have started to improve—that month, U.S. manufacturing registered its highest index in 3 whole years. ISM also reports that manufacturing is doing slightly better than the non-manufacturing sector, with 13 out of 18 industry's revenue's expecting to increase, compared with 8 out of 18. The lucky 13 industries are:
Transportation equipment
Nonmetallic mineral products
Printing and related support activities
Computer and electronic products
Paper products
Electrical equipment
Appliances and components
Apparel, leather and allied products
Food, beverage and tobacco products
Chemical products
Machinery
Miscellaneous manufacturing (medical equipment, jewelry, sporting goods, toys, office supplies)
Textile mills
Fabricated metal products
It's not only economists that have a positive outlook. Hundreds of business owners, CEOs, finance directors and other executives of larger U.S. manufacturing companies were surveyed randomly last year from August to October in phone interviews. The findings? Almost 60% plan to expand next year, which is more than double than last year's survey. Over 60% also expect revenue growth in 2010. They estimate an employment increase of 1.5%, strengthening of exports and imports and are expecting the dollar to weaken in comparison to currencies of major trading partners.
With all this good news for U.S. manufacturing as well as the economy in general, it's important to take it with a grain of salt. The economic downfall and recession started in the U.S., and it has significantly altered the stance of America in the global economy, with competitors like Asia gaining significant competitive ground. While improvements seem steady, keep in mind that they are gradual, slow and fragile.
Manufacturing Outlook 2010: A Positive Forecast

,