Gear Motions Has a Long History of Growth
Gears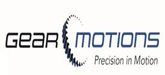 Gear Motions is a leading gear manufacturer specializing in supplying custom cut and ground gears. Whether we're manufacturing your gear complete from start to finish or working from your blanks, our wide range of precision gear manufacturing capabilities and services deliver quality gears to meet almost any application.
Our precision ground or cut helical and spur gears, and cut sprockets, splines, straight bevels and worm gears, are proudly Made in the USA, and are built using equipment that can accommodate virtually any customer request, including diameters ranging from a fraction of an inch up to six feet. Whether your project requires services such as full design, prototyping, pre-production and production of gears, Gear Motions has the expertise to handle every step of the gear manufacturing process to meet your needs.
We've been designing and manufacturing precision gears for more than a century, and in that time we've built a reputation for quality and proven performance. Each one of Gear Motions' facilities are ISO 9001:2008 certified, and our gears have consistently demonstrated quality and reliability in some of the most demanding applications out there. Gear Motions is 100% Employee Owned, assuring our customers that their precision gearing is built by people who have a stake in the outcome. When it comes to gear production, we're here to handle all your projects, large or small.