Fieldtex Products: Custom Cases and First Aid Supplies
Soft Cases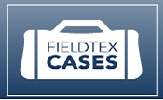 Fieldtex Products manufactures a full-line of bags and soft goods and is a distributor of first aid supplies. We manufacture soft-sided carrying cases that are used for portable electronic equipment for medical and military markets and medical and first-aid supplies. We have been supplying our products to emergency medical corps., schools, cities, towns, youth team sports leagues and general safety marketplace for years.
At Fieldtex we have full custom case manufacturing capabilities, contract sewing and webbing materials and a full in-house graphic team. Our team is highly experienced, allowing us to manufacture cases to meet our customer's requirements. We offer a variety of cases including instrument cases, custom backpacks, briefcases, large cases with dividers, and small belt pouches. We also have the capability to manufacture web straps and tie downs for a variety of applications including slings, hand straps, netting systems and lanyards. We also offer a variety of in stock soft cases such as consumer bags, EMS bags, and sample bags. These cases are able to be customized with branding needs or specific size requirements. Fieldtex also supplies multiple lines of hard sided cases for both heavy duty and light duty needs, customizable with foam inserts and lid organizers. We carry blow molded and injection molded cases and traditional first aid boxes and metal cabinets. Fieldtex also stocks over 2,500 medical supplies products and ships to companies and individuals around the world. We also have the capability to supply fully stocked first aid kits, accommodating requirements for home, industrial, EMS, sports and marine use.
We are dedicated to making sure our products meet the requirements of our customers. Our skilled team is ready to work with you to fulfill your needs, whether it is designing your own cloth case or choosing the correct first aid kit for your needs. Stop by our website or give us a call today!