Unique Hosereels: Custom Hose Reels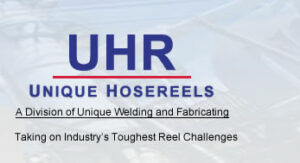 We are a global, diversified manufacturing company that has been proudly serving customers with honesty and integrity since 2006. Unique Hosereels started as a local supplier of hose reels , manifolds, and valves and has now grown into a worldwide manufacturer of custom hose reels, manifolds, and other custom products. Our goal is to provide superior quality, value, and service to all of our customers. We are located in Ontario, Canada but serve customers throughout North America. We have carefully selected a group of professionals who are dedicated to providing our customers with the highest quality products and quality assurance.
Our products are used in a variety of industries like fuel delivery, aviation fuels, fire fighting, military, sewer cleaning, and other industrial markets. We offer a wide variety of hose reels including direct drive, sprocket drive, spring rewind, pneumatic reels, hydraulic driven reels, and more! Our company also offers replacement parts for a wide range of custom and standard in-stock parts. We are proud to offer welding services all done in-house by our certified welders. We also run our own CAD systems in house and have a specialized spinning machine and conventional lathe to produce custom solutions for all of our customer's needs.
Here at Unique Hosereels, we are dedicated to taking on the industry's toughest reel challenges. Our partners bring over 30 years of industry experience to the company. Our company has a team of hand-picked industry specialists that work hard to provide solutions to our customers reel-world needs. We are proud to be USA Department of Transportation 406 approved and this is just one example of our diligence to the level of excellence we strive for. If you would like more information about our hose reels, manifolds, or other products, get in touch with one of our sales representatives today! Visit our website to learn more!