Wholesale Wire Rope from the Experts at Elite Sales, Inc.
Wire Rope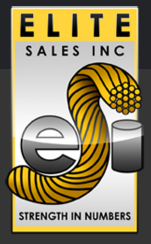 Establish in 1973, Elite Sales Inc. has grown to become America's leading wholesale distributor of wire rope. Whether you are looking for wire ropes, cables, chains, or hardware, you are sure to find just what you need in our extensive inventory. Our two warehouses are strategically located in Houston and Tampa to allow for efficient deliveries across the U.S. We offer same day shipping. This company takes pride in offering products that help customers be successful in their respective markets. Our reliable products are suitable for construction, agriculture, cargo transport and more. We offer dependable quality wire ropes at the best price.
Here at Elite Sales, Inc. we are proud to say our selection of ropes, chains, and hardware is vast. Our ropes and chains come in a variety of sizes, classes and strengths. Depending on your application you can choose from ropes that are compacted, rotation resistant, or made from galvanized or bright stainless steel. Chains come with the option of powder coating for corrosion protection and easy identification. In addition, our various hardware options include Hooks, Swivels, Fittings, Tie-Downs, Flat Hooks, Triangles, Thimbles, Snap Hooks, Turn-buckles, Clips, Eye Bolts and more.
Different strand and lay patterns are more effective for certain applications, with our 100+ years of combined industry experience we can help figure out what type of rope is best for you. We provide uncompromising customer service. We are committed to providing the best products at the best prices! We attribute our success to our loyal customers and partners.