DEXMET CORPORATION TO OFFER Victrex APTIV® PEEK™ FILM BASED EXPANDED MESH PRODUCTS FOR HIGH PERFORMANCE DEMANDS OF THE FILTRATION INDUSTRY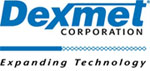 Wallingford, CT – (November 29, 2011) – When Dexmet Corporation, a manufacturer of precision expanded metal foils (MicroGrid®) and polymer films, wanted to add a high performance polymer to its PolyGrid® portfolio, it chose one of the highest regarded performing thermoplastics in the world, Victrex APTIV® film made with VICTREX® PEEK™ polymer.  Utilizing specifically designed proprietary equipment and processes, Dexmet performs an expansion procedure on the high performance polymer to produce a diamond configured, open area mesh product for filtration applications.  Providing all of the outstanding properties of VICTREX PEEK polymer in a versatile thin film format, APTIV film was selected for its superior combination of mechanical strength, chemical and high temperature resistance. "While it technically falls under our high temperature PolyGrid product line," said Ken Burtt, VP of Sales and Marketing at Dexmet, "APTIV film provides much more than just high temperature capabilities.  It also has great chemical compatibility as well as mechanical strength that may be required for certain filter applications in harsh environments making it more of a 'high performance' PolyGrid material."
In the filtration industry, expanded mesh products are used in applications requiring membrane support, purification, and separation.  For applications requiring high temperatures to filter caustic gases or fluids, such as the semiconductor, chemical processing, and petroleum/gas industries, the filtration media typically being utilized is polytetrafluoroethylene (PTFE), perfluoroalkoxy (PFA), and ethylene chlorotrifluoroethylene (ECTFE).  "Although PTFE, PFA and ECTFE have good heat and chemical compatibilities, they lack mechanical strength," explained Burtt. "Strength is essential in a filter design to assure media integrity and pleat spacing under dynamic flow.  The increase in mechanical strength will allow filter designers to utilize thinner support materials to increase the working surface area of the filter," continued Burtt.  "As filter performance demands increase, with higher pressures, temperatures, and aggressive environments, there is a need for better performing material, such as VICTREX PEEK polymer."  Additional advantages of the APTIV PEEK Films include low outgassing and extractables as well as low moisture absorption.  All these performance characteristics combine to enhance performance, reduce systems costs, and increase functionality of the end product.
The advantage of an expanded product, especially important in a filter design, is that the material is one homogenous unit. "The strands don't move relative to the other strands so opening sizes don't change," said Burtt. Another advantage is the geometry of the opening the expanded process produces.  "The material has a three dimensional geometry which allows for multiple flow directions, improving cross flow while reducing pressure drop," explained Burtt.
Dexmet utilizes a precision expansion process which combines a 'slit and stretch' function to produce the high performance mesh product. "It's a process that has been around for over 100 years," said Burtt. "What makes it unique to Dexmet is our ability to produce a thin film expanded product with very small openings at wide widths.
There are no other expanders in the world that can expand thin materials, especially polymer films under 0.127 mm (0.005 in) with opening sizes down to 25 microns and widths up to 610 mm (24 inches)."  The process has infinite variability which enables Dexmet to tailor a product to exact performance requirements, whether it is opening (pore) size, open area, weight per area, or overall thickness.
As the premier manufacturer of expanded thin metal foils and polymer films and an innovator in Expanding Technology™, Dexmet Corporation can provide the technical expertise to manufacture an expanded product that will meet tough application requirements.  For more information on products, process capabilities, and industries served, please visit www.dexmet.com.
Victrex Polymer Solutions combines over 30 years of expertise as the world's leading manufacturer of high performance polyaryletherketones (PAEK) with unmatched product and technical service capability. For more information on VICTREX PEEK polymers and APTIV Films, please visit www.aptivfilms.com.
#     #     #     #
About Dexmet Corporation
For over 60 years Dexmet Corporation has been manufacturing precision expanded metals and is the innovator in expanding thin metal foils and polymer films with exacting mechanical and electrical properties to meet very tight conductivity, weight and dimensional tolerances. The company maintains a continuous commitment to customer service, quality control and process improvement, including SPC implementation and is ISO 9001:20008 certified.  Ongoing innovations include continued development of highly specialized, proprietary expanding and processing equipment for unique open area products. For more information, please visit www.dexmet.com.
Dexmet®, MicroGrid®, and Polygrid® are registered trademarks of Dexmet Corporation. Expanding Technology™ is a trademark of Dexmet Corporation
About Victrex
Headquartered in the UK, Victrex Polymer Solutions, a division of Victrex plc, is the world's leading manufacturer of high performance polyaryletherketones such as VICTREX® PEEK™ polymer, VICOTE® Coatings, APTIV® film and VICTREX Pipes™. These materials are used in a variety of markets and offer an exceptional combination of properties to help OEMs, designers and processors reach new levels of cost savings, quality, and performance. All Victrex material production comes under Victrex's ISO 9001:2008 quality registration.
VICTREX® is a registered trademark of Victrex Manufacturing Limited. VICTREX Pipes™ is a trademark of Victrex Manufacturing Limited. PEEK™, PEEK-ESD™, HT™, ST™ and WG™ are trademarks of Victrex plc.  VICOTE® and APTIV® are registered trademarks of Victrex plc.