Delson Hinge Manufactures Exceptional Quality Stock and Custom Hinges
Hinges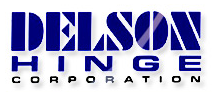 Delson Hinge Corporation, located in Southington, Ct., is the leader in hinge manufacturing. With over 50 years of experience, we have redefined the hinge making process to better help us meet our customers' needs. We manufacture high-quality stock and custom hinges and we deliver them at competitive prices. With our quick turnaround times, exceptional personal and professional customer service, and our outstanding products, our valued customers enjoy ordering their hinges from us.
If your project requires a custom hinge, you have come to the right place. Custom hinges are our specialty! Our highly skilled and experienced engineers at Delson Hinge are ready to work with you on manufacturing hinges specific to your needs. Just send us a sample or drawing along with any specifications you might have and it will receive prompt attention from our team of engineers. We offer a wide variety of custom hinges in gauges ranging from .025" to .125" thick to meet virtually any need. Our large inventory of existing tooling and full machining capabilities allow us to create custom hinges quickly and efficiently.
At Delson Hinge we manufacture slip hinges, continuous hinges, butt hinges, and flag hinges for various industries, including the medical field and the military. We are an O.E.M for the computer, cabinetry, and NEMA industries as well. Our team of skilled engineers has the experience and expertise to manufacture complex hinges that involve stamping and fabricating operations. Our lead times are some of the fastest in the industry and are quoted on a project-by-project basis. At Delson Hinge, we take pride in knowing that our customers continue to return to us for their hinge needs. To experience the quality, reliability, and quick turnaround times that Delson Hinge offers, give us a call today!