Creative Extrusion & Technologies: Trusted Extrusion, Leather and Fabric Provider
Plastic Extruders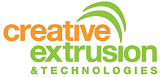 Creative Extrusion & Technologies has been a leading manufacturer of custom extrusions and leather and fabric products for over 60 years. We are committed to providing our customers around the world with the highest quality products. Our highly-experienced engineers make the tooling process meticulous and prompt. Depending on the product, our manufacturing team has at their disposal a variety of traditional and state-of-the-art equipment to meet the needs of any project. We manufacture custom and stock profile extrusions in all shapes and sizes, including laces, tubing, bumpers and textile piping cut to length or wound on spools.
With almost a century of experience and craftsmanship, our leather and fabric division is able to produce custom bindings, stripping and piping for a multitude of industries. Our custom and traditional binding and stripping designs have been used for apparel, luggage, shoe and related industries for decades. Because of our advanced technology we are able to offer continuous lengths with the best possible yields. We also can slit and stitch any fabric to your exact specifications. As a result of our long term reputation for producing superior quality products, we have been the supplier of choice for leather and fabric products.
Our engineers are available to work with you to develop the right materials, tooling and final design to produce a superior quality product at a competitive cost. Stop by our website or just give us a call. We'd be glad to give you additional information and answer any of your questions!