Metal Associates: Superior Metals and Customer Service
Aluminum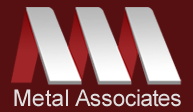 Metal Associates is a reliable distributor of ferrous and non-ferrous metals. This supplier can provide metals in a variety of shapes including aluminum, brass , copper , bronze, Invar, Cupro-Nickel and more. Metal Associates is committed to providing their customers with outstanding metal products for their projects. These dependable items are long-lasting and this company works with you every step of the way to find you those "hard to find" alloys. There is no project too challenging for their highly trained staff. If you have any special requests then do not hesitate to let one of their representatives know.
The team at Metal Associates can provide you with solutions in a number of forms including rods, bars, sheets, plates, foil, coil, wire, tubes and much more. There are a number of advantages integrated into their high quality solutions and this company works hard to provide you with the most effective products. These uncompromising items are affordable and designed with your needs in mind. This company maintains a large inventory of products which results in quick turnaround on all orders. These quality-assured products are thoroughly tested and it is their mission at Metal Associates to exceed your expectations.
Metal Associates has a variety of experiences and aims to always provide their customers with maximum satisfaction. From stainless steel rods to copper coils this turnkey supplier makes it all! There is no order too small for this company and they can provide you with high purity metals. These worry-free products are highly beneficial and come with superior attributes. If you are still unsure what products are best then give one of the representatives at Metal Associates a call today!