Precise Temperature Control with BV Thermal Systems' Chillers.
Chillers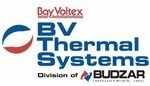 Since 1980, BV Thermal Systems, a division of Budzar Industries, has designed and fabricated precision chillers and fluid to fluid heat exchangers for a range of industries. Our focus on creating close relationships with our customers has cultivated a vast knowledge of each industry's requirements and enables us to provide superior solutions. Along with custom solutions, we offer standard models of varying temperature ranges including standard temperature, low temperature, and extended temperature. With BV Thermal Systems, you can count on precise temperature control.
Meeting exact requirements for your industry is what we do best, so we offer extensive options for our chillers. Whether you are looking for recirculating, air-cooled, water, benchtop, rack-mounted, low temperature, laser, semiconductor, laboratory, glycol, bay voltex, anodizing, OEM, or non-refrigerated chillers, BV Thermal Systems has the ideal solution. We offer a huge list of customizable options such as controls, colors, horsepower, fluid maintenance, measure, and control, pumps, hose kits, and more. Currently, we serve a wide variety of high technology applications including, EDM, laboratory, semiconductor, lasers, scientific instruments, medical, blood analyzers, CT scanners, and pharmaceuticals.For over 40 years, we have strived to bring only the top of the line chillers which is why we work so closely with our customers. At BV Thermal Systems, no detail is overlooked, from design through production. We utilized superior materials and take the time to manufacture the products to your exact requirements on time and on budget. We provide maintenance and premium customer service as well as follow dependable engineering and manufacturing practices. All of our units go through testing to ensure you receive a reliable product.