Avon Broach: Quality Since 1950
Broaching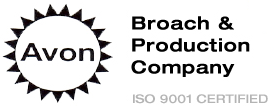 Avon Broach and Production Company has been a leader in the broaching industry since 1950 and continue to lead the industry thanks to our commitment to customer satisfaction and our passion for the business. We pride ourselves on being able to tackle virtually any order from one piece orders to orders over a million pieces. We have over 5000 broaching tools in our inventory and we have over 75 broaching production machines. We are an ISO 9001:2008 registered company which means you can count on us to be your premium source for broaching.
We offer a great variety of broaching services and we will work with you to understand your process and application in order to provide you with the right form of broaching to ensure your final product is the product you need. Some of the broaching services we offer include: surface broaching, internal form broaching, internal cam form broaching, internal helical broaching, lock cylinder broaching, external pot broaching, turbine broaching and so much more. We couple our production orders with on time delivery to ensure you are getting the products you need.
Avon Broach has a 30,000 square foot manufacturing in Rochester Hills, Michigan and with over 60 years in the industry we are home to broaching experts who will be happy to assist you in making the right product for you. We take on virtually any order, there is a reason we have been a leader in the industry since 1950. We love working with our customers and finding out more about their specific applications. We do this in order to provide the best possible product that fits your specifications and will function properly in your application. Call us today or visit our website to find out even more about our company and see all the services Avon Broach offers.