ArtPrize 2014 – West Michigan's Premier Art & Cultural Event
When: September 24 – October 12
Where: Downtown Grand Rapids, Michigan
Not many cities have the privilege of hosting an international art competition that spans 19 days and covers 3 square miles of a city. However, here in the city IQS calls home, Grand Rapids, Michigan, we are lucky enough to be part of this spectacular event known as ArtPrize. This September 24 to October 12 marks the 6th annual ArtPrize competition. Artists from all over the world are able to submit art and are eligible to win one of the cash prizes. The creative minds behind ArtPrize want the competition to be open to anyone, according to their website, "ArtPrize provides a platform for anyone over the age of 18 to be an artist, any space within the ArtPrize district to be a venue, and anyone who loves art to get involved."
ArtPrize started in 2009 as a new social experiment. Rick Devos, decided that he wanted to give away the world's largest art prize based entirely on public votes. While some people jumped right on board with Devos' idea, others were skeptical. The idea was that anyone with property in downtown Grand Rapids could turn their space into an art venue and any visitor could vote for their favorite artwork. Now 6 years later, the event continues to be a huge success.
Last year's competition featured 1,524 entries and 169 venues. There were a total of 446,850 votes placed. The first place winner was awarded $200,000 for her landscape art quilt. Anne Loveless's "Sleeping Bear Dune Lakeshore" features four panels of iconic Lake Michigan shoreline. The first place winner from 2012 was Adonna Khare's carbon pencil drawing called, "Elephants." In 2011, the first place prize went to Mia Tavonatti for her stained glass mosaic, "Crucifixion."
"Sleeping Bear Dune" by Anne Loveless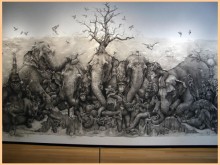 "Elephants" by Adonna Khare
"Crucifixion" by Mia Tavonatti
This year's competition will feature 1,537 entries from around the world. Prizes will total $560,000. The number of visitors is sure to rise from last year's 400,000 visitors. According to the 2013 annual ArtPrize report, the competition drew in visitors from all 50 states as well as 47 different countries. CNN featured ArtPrize as the must-see destination in Michigan for 2014. In 2013, 50% of visitors traveled more than 30 miles to attend this unique event. ArtPrize 2014 is sure to follow in the footsteps of last year's success.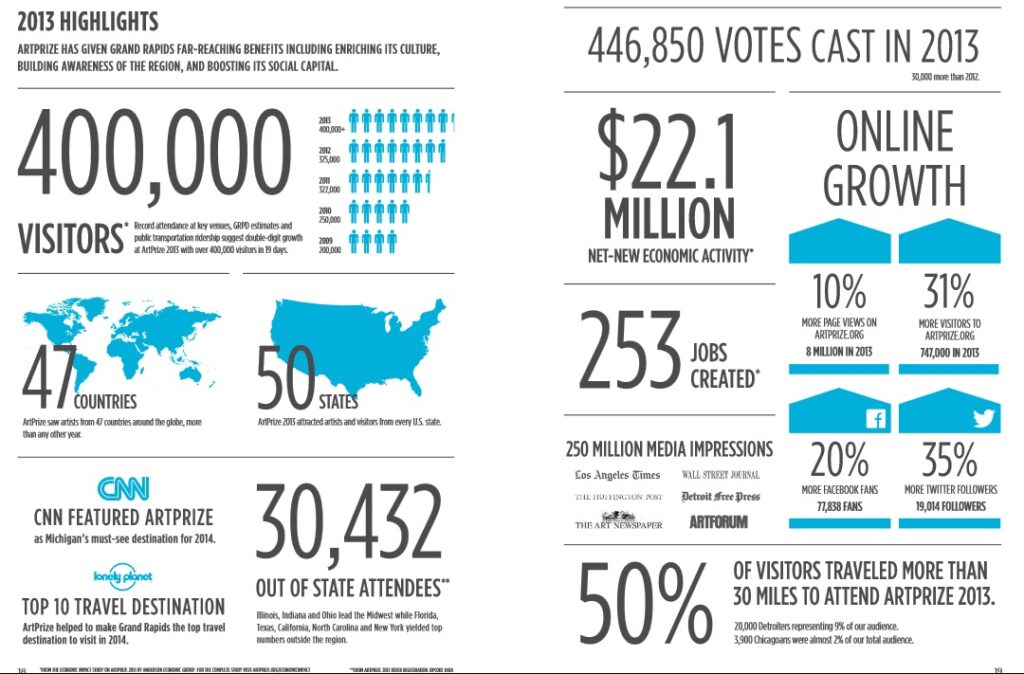 An artist from Brooklyn is entering a piece in this year's competition that will stay in ArtPrize long after the competition is over. Kevin Sudeith has been working in downtown Grand Rapids since August carving petroglyphs into Michigan Fieldstone. The idea of some of the art staying in the city after the competition is over is not unheard of. A 2010 entry of the Loch Ness Monster, calls the local zoo its home and two murals are found on the walls outside of the children's museum.
Although ArtPrize is still a few weeks away, there is already a lot of buzz going around as visitors anxiously wait for their chance to visit, vote, and enjoy the city. If you happen to live in or near Grand Rapids, don't miss out on this unique opportunity to see a city come together to feature the artwork of talented artists from all over the world.