Ameri-Source Is the Source for Graphite Electrodes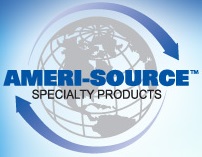 Ameri-Source Specialty Products is the leading expert in the Graphite Electrode manufacturing industry. We have the capabilities of manufacturing High Power, Super High Power, and Ultra High Power Graphite Electrodes to meet the demands of your furnace. Our Graphite Electrodes manufacturing process is an ISO 9001:2008 certified operation. Here at Ameri-Source we have the capability of customization of Graphite Electrodes that meet the necessary specification of your needs. Our team of experts will help you with sales and technical support, as well as inform you of the best best storing methods. With our 100% Customer Satisfaction Guarantee ensures that our Graphite Electrodes and Nipples meet all of the industrial quality standards.
Ameri-Source is a trusted name for CNC machining. We have saw cutting, turning, milling, and planning capabilities. Ameri-Source has CNC Lathes and Vertical Mill machines that are available. For saw cutting and turning thermal and conductive characteristics are available, and for our milling and planning we gave shock and chemical resistance. Our saw cut and turned products are used as heating elements, trays, vessels, and fixtures in the in aerospace, aviation, and the automotive industries. Our milled products are used for molds, lube blocks, and brazing plates in the electronics, metals, and rust belt industries. We offer prototype to large scale productions, have 2 to 3 weeks lead times, with the option of rush services. Our standards are ISO 9001:2015 and NEMA.
Ameri-source Specialty Products is the leading expert in the specialty metal products industry. We manufacture cold rolled annealed, hardened tempered, hard rolled carbon, stainless steel, alloy steel strips, constant force spring, band saw and circular saw blades. We manufacture our products to the customers specifications from 0.004″ to 0.125″. We have the capability of manufacturing bundy weld tubes, and texture rolled.