Buy and Sell Directly with Metalmark Inc.
Aluminum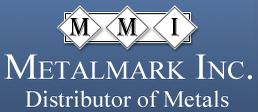 From Cleveland, Ohio comes Metalmark, Inc. a prime and secondary metals and materials supplier. Metalmark's target clientele is distributing metals throughout the United States of America, Canada, and Mexico. Specifically, Metalmark prides ourselves on our dealings with specialty metals in stainless steel and aluminum. Family owned since we established in 1992, we have operated and proved to be an unstoppable force in the industry. Metalmark's commitment to always sourcing new materials and selling all types of metal to our customers has made us a staple organization in the stainless steel and aluminum industry. Some of the items we buy and sell are coils, sheets, bars, and plates.
One of the signature services from Metalmark is that we offer specials on stainless steel and aluminum right from our website. Metalmark is one of the few organizations that lets metal be sold directly to us. Prime and secondary stainless steel sheets, coils, and plates are just some of the products that they deal with. Some of the specifications are Grade: 201, 304/304L, 316/316L. 409, 410, 430, 17-4, 18CRCB, surface finish: 2B, BA, #4, #8, HRAP, width 1"-72", and thickness equaling out to .0125"-8+". We will work with all gauges, lengths, and schedules for stainless steel bars, pipes, and tubes. These are not limitations but guidelines.
The truly interesting component of Metalmark Inc's business is that we allow customers to contact us with an offer. This is one of the more revolutionary tactics in the industry and is becoming an increasingly popular. Metalmark stands proud as one of the first to introduce the concept. Our organization also prides itself on prime and secondary aluminum sheets, coils, plates, and bars. We work with a variety of guidelines set for these as well but will work with you on all types and sizes of aluminum available. Metalmark is a driving force when it comes to buying and selling steel and aluminum at a fast pace.