Ah, the Sound of Pulverizers
by Rebekah Fuller, IQS Editor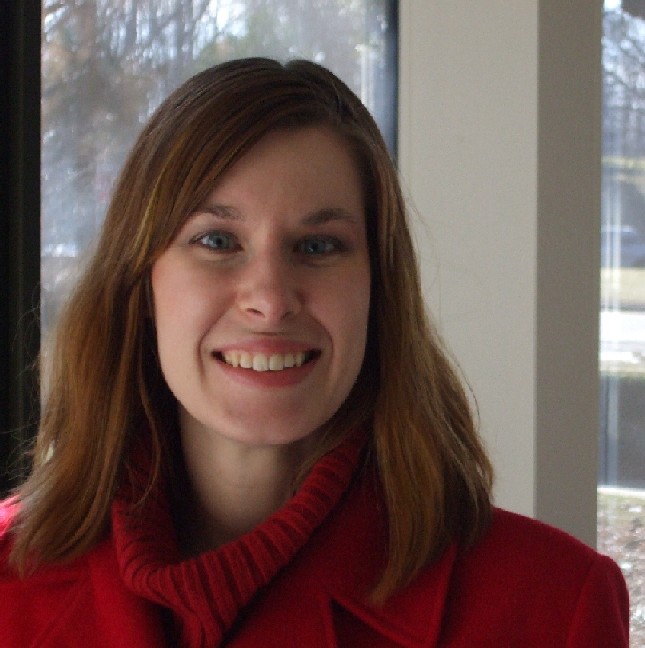 You can almost hear the grinding and crushing as you say the word pulverizer – the consonants and vowels combine to create hard sounds as you enunciate through the syllables. I enjoy deepening my voice to emphasize the harshness of the word. You try… it's like a "grr" from the back of your throat. Now, while saying it (and making pounding motions with your fists if you really want to get into it), imagine what it would take to smash stones into powder. The bulk material handling and process industries, including mining, waste recycling, plastics, food & pharmaceuticals, rely on this kind of de-agglomeration controlled at various intensities within pulverizing machines, making materials more useful or reusable. It's destruction with a purpose; breaking down to make better. Pulverizers take the idea of mortar and pestle to the extreme.
General terms associated with pulverizing equipment are lump breakers, grinders, impactors, impact crushers, size reducers and smashers, plus rotor mills, grinding mills or simply just mill (any type of machine used for crushing or grinding). Pulverizers for industry can be categorized as ball mills, cage mills, chain mills, hammermills, jaw crushers, roller crushers and waste recyclers, and come in vertical or horizontal orientations to suit differing conveying and processing feeder/discharge needs.
The unique characteristic of ball mills is the function of grinding media within a rotating cylinder ranging in size from a small blender to an enormous barrel. Steel, stainless steel and ceramic balls are popular forms of grinding media; others include tungsten carbide, zirconium oxide and polyamide plastic. Size varies from marble scale to the bowling ball magnitude used to crush coal in power plants. Ball mills generate grinding energy because of centrifugal or planetary rotation at a speed slow enough to cause the media to cascade through the generally hard material, pounding and rolling it until it's a fine powder.
Chain mills are also used to break down harder substances. As the name implies, a chain curtain is wrapped around a rotating shaft within the machine to deliver the impact for size reduction.
Hammermills are internally composed of rows of rotating grinding plates, or circular discs, with hammering heads spaced equidistant from each other around the discs' perimeters. Typical applications involve bran, barley, oats, meat scraps, gypsum and wood.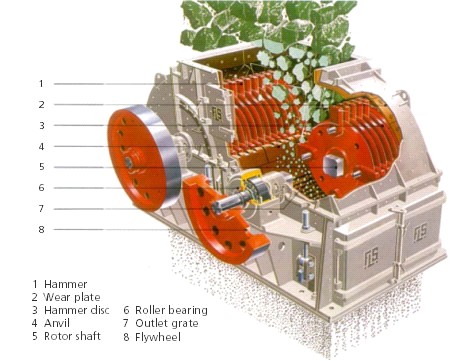 Hammer Mill Diagram from FLSmidth Inc.
Instead of hammer plates, roller crushers utilize industrial grinding rolls to break up softer materials, such as limestone, chalk and clay.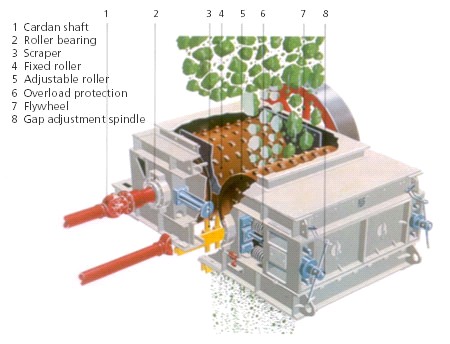 Roller Crusher Diagram from FLSmidth Inc.
In comparison to hammers and rollers, jaw crushers are equipped with two pulverizing plates formed into a V-shaped chute that smashes various large stones, limestone, granite, basalt, gravel, ore and coal into increasingly smaller pieces as the material travels down and is discharged.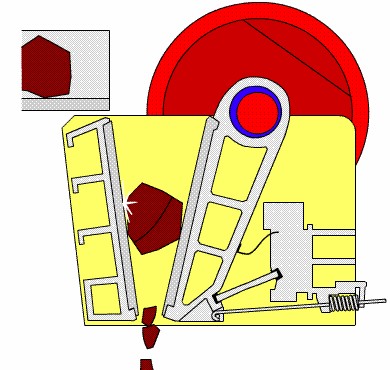 Pulverizer manufacturers even offer complete cage mill systems for continuous crushing, grinding, pulverizing, blending and mixing of dry or even wet and sticky materials.
Consult a manufacturer for equipment recommendations based on material type, necessary fineness and integration into conveying, feeding, mixing and drying systems. Choosing the correct grinding and milling wear parts (jaws, rolls, blades, plates and liners) is important, whether working with chemicals, sugar, spices, wheat, coffee, minerals, PVC, rubber, electronic or metal scrap, etc.