A Rubber Tubing Dilemma: Natural or Synthetic?
by Jenny Knodell, IQS Editor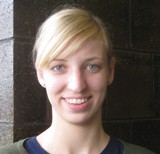 Although you may not see it very often, rubber tubing is the backbone of countless systems, machinery and appliances we all use in everyday life. Working mostly behind the scenes, it transports liquid and gases like coolants, hydraulic fluids, water, grease and syrup through complex piping systems. They are used in fountain pop machines to provide a transfer medium between those large bags of syrup and the nozzles you put your cup under. They are also used in cars, refrigeration systems and air conditioning units. Flow lines for corrosive and harsh chemicals also use rubber as the material for their tubing systems.
Fountain pop rubber tubing
With such a wide range of applications, I bet you're left wondering how rubber can possibly be such an adaptive material used in so many different places. In fact, natural rubber is only one of many different types used for tubing. The rest are synthetic rubber compounds that contain both natural rubber and another material like plastic or silicone. So the question is: which are better for your specific rubber tubing need—natural rubbers or synthetic rubbers? I'll profile three of the most common types of rubber: latex, which is natural, and Viton and thermoplastic rubber, which are synthetic varieties, to determine how they stack up against each other and where their best uses lie.
Latex rubber is manufactured from a pure, natural material which produces seamless, uniform and smooth rubber tubing. Because it is a natural substance, latex is non toxic and therefore can be used in food processing and medical applications because there is no risk of contamination. Its smoothness facilitates easy liquid flowing and minimizes the chances of a crust build-up. While its cold temperature resistance is high, latex tubing does not perform well in hot temperatures. It also has a weak resistance to petroleum and therefore cannot be used in cars. Latex tubing is, however, the first choice when it comes to sticky liquids like syrup and grease, and maintains its properties well in refrigeration systems.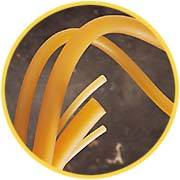 Image courtesy of NewAge Industries
Viton rubber tubing has the properties that latex lacks. It performs well when in contact to oil and harsh chemicals, and has a high temperature and UV resistance. It is the only synthetic rubber that can handle hydrocarbons like benzene, toluene and xylene, which act as solvents on natural and polymer rubbers. Although Viton rubber doesn't have anything close to the flexibility exhibited in latex, the resistance levels are unparalleled. Viton tubing is the only choice when it comes to chemical and solvent transfer and applications in high temperature conditions.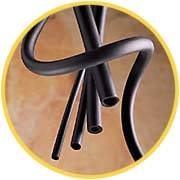 Image courtesy of NewAge Industries
Finally, thermoplastic synthetic rubber provides lightweight and durable tubing with a wide temperature range. Manufactured from pure rubber and polypropylene, this type of rubber tubing has one characteristic that sets it apart from the rest: it is able to perform better than any other rubber compound when under pressure. Thermoplastic rubber tubing is the only choice for peristaltic pump applications and is also used in appliances, packaging machinery and ink or paint transfer.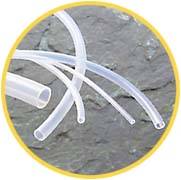 Image courtesy of NewAge Industries